Seat Replacement Project Begins
The first steps in a staged process to rejuvenate seating in the Devonport End, Lyndhurst Road Stand, and Barn Park End at Home Park Stadium begin in earnest on Monday, 17 January.
As part of the Plymouth Argyle's recently announced schedule of stadium improvement works, expenditure has been approved to replace the original seats throughout the horseshoe at Home Park, bringing the stadium back to its best.
This work will see every seat in the stadium, excluding the Mayflower Grandstand, taken out, with brand new seats installed in their place. Plymouth Argyle has appointed leading firm Alderdale Seating Ltd. to undertake this work, with Alderdale's impressive portfolio including a number of Premier League football clubs, including Manchester United.
Work will be tailored around fixtures at Home Park Stadium, ensuring that our capacity is unaltered by this work. It will, however, mean that, supporters will notice a mixture of old and new seating installed throughout the stadium in the short term, as our contractor goes about the significant task of replacing exactly 12,797 seats.
From next week, seats located between blocks 8-16 will begin to be installed, with seats in the Lyndhurst designed to spell out 'Home Park', as seen in the indicative image below. Work will follow to replace the seats in the Devonport End and Barn Park End later this year.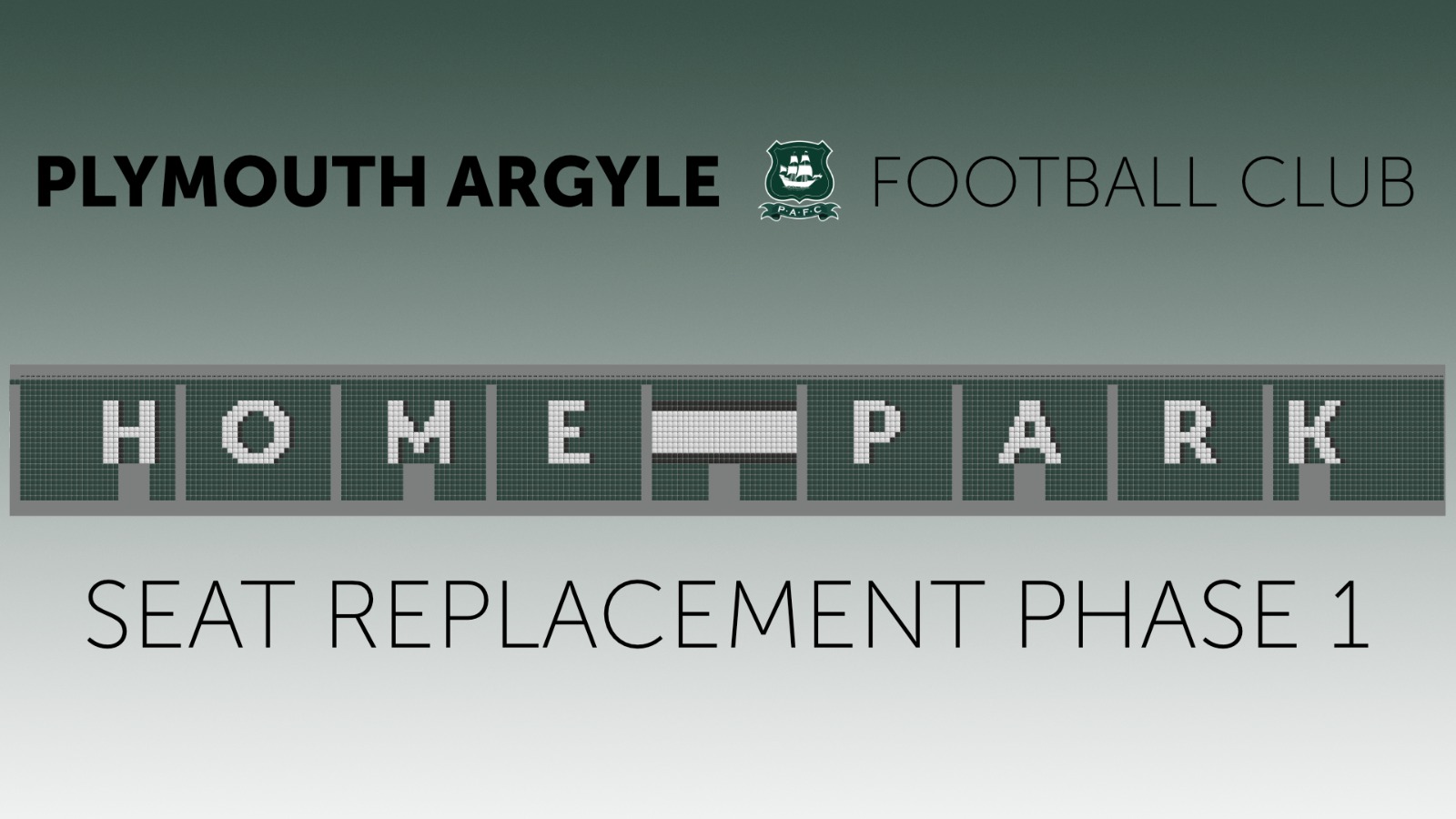 When selecting a contractor to carry out the works, one key factor was ensuring that the environmental consequences of disposing of thousands of plastic seats was kept to a minimum.
Plymouth Argyle Chief Executive Officer, Andrew Parkinson, said: "Stadium rejuvenation is often a 'nice to have' for many clubs, particularly in the current climate, but thanks to strong leadership from our Board, hard work from our excellent staff, and outstanding backing from our supporters, we are in a position to lay the foundations for our future.
"Replacing these seats is one element of an ongoing programme to improve facilities and enhance our supporter experience at Argyle.
"Anyone who has been to Home Park in recent seasons can see that the seats have needed replacing for some time, and, while we are experiencing our highest attendances for well over a decade, there is no better time, in our view, to ensure that we do everything we can to make it a place to be proud of."